It's summertime and for many parents it can mean you find yourself looking for ways to not only keep little hands busy without resorting to screens, but also letting kids learn without stifling the need to let them explore and play. Sensory play is an important part of early childhood development, both at home and in a preschool program. It lets children explore and learn about their world through what they do best – PLAY. The fun can extend beyond a play based preschool environment. There are lots of great ways we can promote this type of fun at home.
Sensory play involves any activity that stimulates the young child's senses: touch, smell, taste, sight and hearing. Sensory activities naturally encourage children to use scientific processes while they play, create, investigate and explore. Stimulating children's senses help them to develop cognitively, linguistically, socially and emotionally.
Sensory play is process-driven and a very pure type of exploratory learning. Sensory play encourages children to manipulate and mold material on their own. This type of play helps a child learn about their bodies and their minds through exploration of familiar and sometimes new materials.
Scooping rice, molding sand, sifting cornmeal exploring with shaving cream, observing sink and float and making play dough are some of the sensory play activities that our students look forward to. Sensory play benefits all children. It allows children of all abilities to become involved and get to know other children. It allows them to explore and engage in their surroundings and helps build social skills. The play based preschool program at Ross Valley Nursery School (RVNS) in Kentfield California (in Marin County just north of San Francisco) places a great emphasis on sensory play. Each morning when the young children arrive to our play based preschool they are greeted by our loving teachers, who have thoughtfully created several sensory stations for them to explore. Some mornings it might involve a table covered with glittery shaving cream or large bins with rice or sand for sifting and sorting small plastic creatures. When the weather is warm we often have small plastic pools filled with water outside and toys for scooping or even frozen creations that the children can chip away at and discover goodies inside as the water melts.
Looking for an easy, fun activity you can do together in the kitchen but will also let them get their hands messy and keep them busy? Try making your own homemade play dough will a few simple and safe ingredients. Here is our famous recipe, enjoy!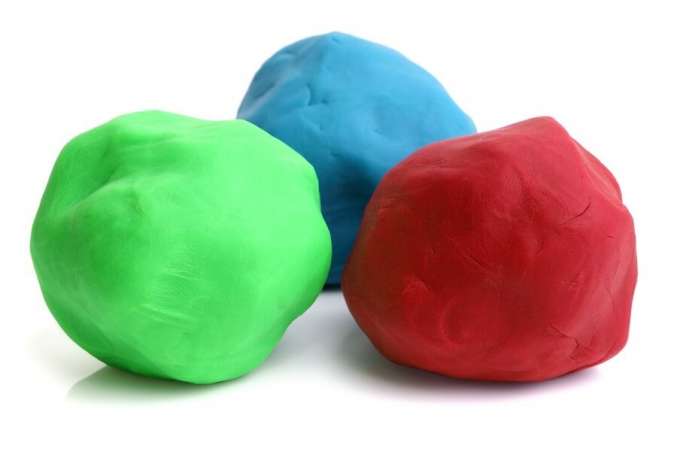 Recipe: Homemade Play Dough
An RVNS Favorite for Hands On Fun!
Recipe: Homemade Play Dough - an RVNS favorite
Ingredients
4 cups flour

2 cups salt

8 tsp. cream of tartar

4 cups boiling (hot) water

4 tbsp. vegetable oil

Food coloring
Preparation:
Mix dry ingredients in a large bowl. Add oil and food coloring to the hot water. Pour the water mixture directly onto the dry ingredients. Stir with a large wood spoon to combine. Knead thoroughly until smooth. Store in an airtight container. (shelf life is usually a few weeks)
Tip: Divide the dough among several small containers and use as party favors or make extra special for party favors (i.e. add sea creatures to the top of blue play dough, dinosaurs to green play dough, etc. Get creative! Local stores such as Whole Foods do tend to carry natural food dyes as well. Some parents have also put their own spin on the recipe by experimenting with essential oils, such as lavender or eucalyptus (totally optional!)
Looking for a great play based preschool?
If you or someone you know is interested in our play based preschool and preK programs in Marin, please contact us today to get more information and enroll for Fall 2019.